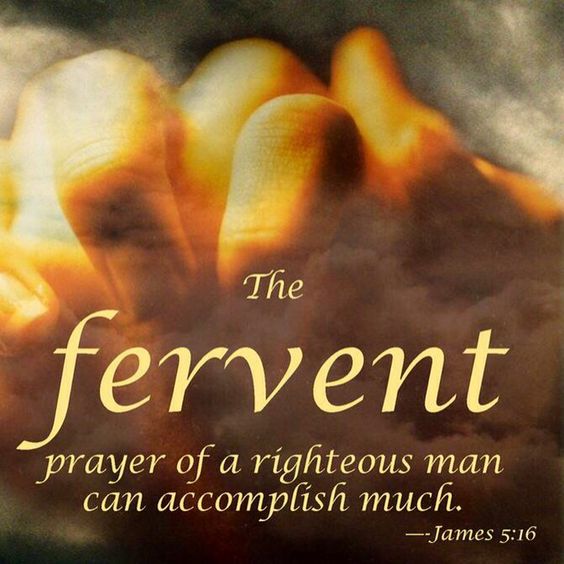 Paul Moore 1-30-17
How do we pray with fervency and intensity? How do we pray like Elijah, Daniel, David and even Jesus? Let me share some thoughts…
First of all, we need to begin with focus. The mind is a wonderful thing, but it can also be a great distraction. The battleground of the soul is won and lost in the mind. To pray effectively and fervently, we have to engage our mind, as well as our spirit. If we don't, the mind will easily wander, when not yielded to God. Satan can render our prayers ineffective by simply distracting us during times of prayer. Distractions will prevent us from fully giving ourselves to the ministry of prayer. Therefore, we must bring every thought captive to the obedience of Jesus Christ. Colossians 3:1-2 states, "If then you were raised with Christ, seek those things which are above, where Christ is, sitting at the right hand of God. Set your mind on things above, not on things on the earth." So, to pray effectively, we have to diligently set our minds on Christ and the work at hand.
I can't emphasize this point enough. Many believers find it hard to pray, because they haven't learned how to control their thoughts. They may pray for a few minutes and then their mind wanders on to other things. Or in a corporate prayer meeting, they quickly become bored and never really enter into the ministry of prayer. Prayer is work – if you think otherwise you will never fully give yourself to prayer. If on the other hand, you learn how to embrace this great work of God, you will find it is the most rewarding ministry of all.
The second thing, and equally important as the first, is to enter into the Spirit. Almost every time I pray, I'm reminded of Romans 8:26, "Likewise the Spirit also helps in our weaknesses. For we do not know what we should pray for as we ought, but the Spirit Himself makes intercession for us with groanings which cannot be uttered." We don't know what we should pray for or how to pray, that is, if we lean on our own understanding. Prayer is not just work, it's spiritual work. We need the Holy Spirit to lead us in prayer. He has to show us how to pray and what to pray for.
When I pray without the leading of the Holy Spirit, I find myself telling God what to do. But when I engage my spirit with the Holy Spirit, I begin to pray the prayers of heaven: God-inspired prayers and God-led prayers. Praying without the leading of the Spirit is like shooting an arrow blindfolded. I may shoot the arrow, but the chances of hitting the target are pretty slim.
Praying in and with the Spirit is one of the most amazing and uplifting experiences in God. Although it's work, I find it incredibly exhilarating. Often, I have gone to a prayer meeting tired or even discouraged, only to return so alive that I can't sleep for several hours. It's like a spiritual high. For me, personally, a prayer meeting is the most exciting meeting on the church calendar. And yet, I'm sure many Christians who haven't had these kind of Spirit-let experiences would disagree.
If we don't enter into the action of prayer, it becomes a spectator sport – and not a very interesting one, at that! I recently attended a large prayer meeting lead by a group of pastors. It was great to see so many believers turn out for a prayer meeting.  However, most of the meeting was pulpit led. There was very little time to listen to the Spirit – and then pray. I'm not faulting the way it was done, because most Christians don't know how to pray; many have never been taught. And so, our attention span is about five minutes at best. If we haven't learned how to focus our attention and engage the Holy Spirit, prayer will be dry, dull, and boring. However, if we know how to do those things, prayer – and especially corporate prayer – is a wonderful experience! So, let me share some thoughts on engaging in and with the Holy Spirit…
One of the best ways to connect with God is through praise and worship. Praise and worship lift our focus from ourselves and put it on God. Worship elevates our spirit into the realm of the Spirit. The key, however, is to worship with all our heart, mind, and soul. Just singing a song or two won't do it, if your heart and mind are elsewhere. We have to fully give ourselves to God to enter into the realm of the Spirit. God hates lukewarm contributions of any kind. (Revelation 3:16)
Another way to get in the Spirit is to pray in tongues. When we pray in tongues our spirit prays, but our understanding is unfruitful. (1Corinthians 14:14) It's like turning off the mind. Again, the mind is a wonderful thing, but it is also the battleground of the soul. It's where the enemy attacks the most. To (momentarily ) bypass the mind and open wide our spirit to the Holy Spirit, lifts us into the realm of heaven. When that happens, we begin to pray the prayers of heaven.
I find these two methods most effective in entering into prayer. Again, we don't know how to pray, that is, without the Holy Spirit's leading, direction, and guidance. Let me leave you with a passage from I John 5:14-15: "Now this is the confidence that we have in Him, that if we ask anything according to His will, He hears us. And if we know that He hears us, whatever we ask, we know that we have the petitions that we have asked of Him." Amen!
Please follow and like us: