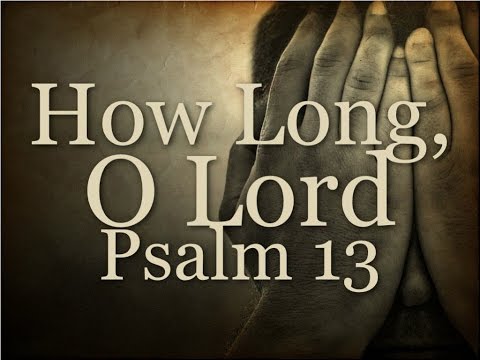 This psalm finds David in a dark place, but it doesn't leave him there! Through prayer, he goes from dispair…
Psalm 13:1-2 NIV
[1] How long, Lord? Will you forget me forever? How long will you hide your face from me? [2] How long must I wrestle with my thoughts and day after day have sorrow in my heart? How long will my enemy triumph over me?
… to making his case/requests known…
Psalm 13:3-4 NIV
[3] Look on me and answer, Lord my God. Give light to my eyes, or I will sleep in death, [4] and my enemy will say, "I have overcome him, " and my foes will rejoice when I fall.
… to releasing his burden!
Psalm 13:5-6 NIV
[5] But I trust in your unfailing love; my heart rejoices in your salvation. [6] I will sing the Lord's praise, for he has been good to me.
Prayer brings peace, when we place ourselves – and our needs – squarely in God's hands. Trusting Him, even when He seems far away, is always in style, because He has abundantly proven His faithfulness! And, because He is faithful, we can walk by faith.
This is an eternal truth, relevant to every generation. It was true for Abraham, David learned the same lesson, Peter discovered it, as well – and we can, too! That is why he exhorts us to…
1 Peter 5:7 NIV
[7] Cast all your anxiety [cares] on him because he cares for you.
Thank You, Father, for your faithfulness. Thank You for loving us and caring for us – even (and especially) when you seem far away. Thank You for giving us a way to connect with You, through prayer, so we can submit ourselves and our cares to You. Help us to trust you in our dark times, like David did, and come out of prayer walking in Your light! Thank You, Good, Good Father, for Your loving kindness.
Please follow and like us: