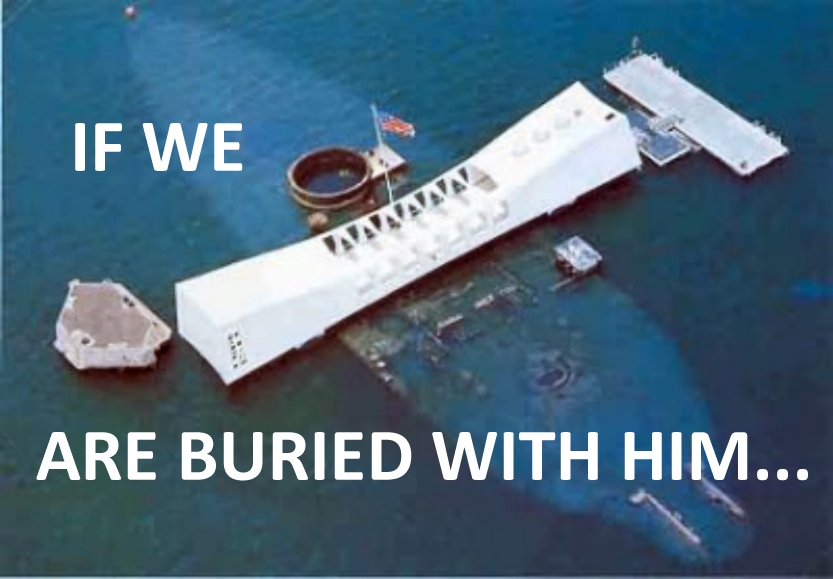 We visited Pearl Harbor during the Easter season, and learned a lot about Jesus…
There, under the water lies the battleship Arizona – along with most of its 1,177 crew members who died in the attack. They are there, entombed in the ship, just under the surface. It's a moving memorial.
However, what spoke to me more than the preservation of the ship as a graveyard was what happened to the Arizona crew members who survived. Each one has since been buried there, their remains have been returned to the site to be interred with the fallen. Of the entire crew, there are four still living – and they also intend to be buried on the Arizona.
Can you imagine the survivor guilt they must have experienced? So many perished, and yet…somehow…they lived. They should have fallen, too, but were spared. No doubt, this had an incredible impact on how they lived the extra days they were given.
There is a similar theme in the movie, "Only the Brave." It's based on the true story of the Granite Mountain Hot Shots, a team of twenty brave men who battled wildfires. Like comrades in arms, they were a band of brothers forged in the trenches. Through a set of unusual circumstances, however, they all perished together in a fire – all except one. "Donut," the lookout, was separated from the group and survived the ordeal. He should have died with the rest – but didn't – and that had a significant effect on his life. Donut's anguish was even more pronounced, because (in his own words), "These were all more worthy than me!" And they were… Donut was a rudderless addict they embraced and made into a vital part of the team. Men "more worthy" died, and he survived. Why? How is that right? To Donut, it was unfathomable – and yet, it also proved motivational. After finally reconciling his survivor guilt, Donut lives his life to honor the fallen.
Themes like this are convicting; that's for sure – but they are also inspirational. In the movie, "Saving Private Ryan," a detail is sent to find the sole surviving sibling of five brothers to return him to his mother. His life was so important, that men were called upon to risk their lives to make sure he returned home, alive. As the store unfolds, however, the men who came to rescue him laid down their lives for him. His brothers had all died in the war, and yet, he lived. The men who came to find him, likewise died – and yet, he lived. How can you wrap your head around that? Like the survivors of the Arizona and Donut, Private Ryan had a debt he could not pay. And so, the last scene in the movie shows him many years later, in Arlington Cemetery, crying at the grave of his rescuers. He had been given the opportunity to grow old. Had he lived a life worthy of their sacrifice?
We have just celebrated "Good Friday," when Someone way more worthy sacrificed His life for us. That, too, is really hard to fathom, but the Bible says, "Christ also suffered once for sins, the just for the unjust, that He might bring us to God …" (1 Peter 3:18) This means that Jesus – literally – gave Himself for us, died in our place, so we could come home to the Father. He died, so we may be born again into His family and live in newness of life. The spotless Lamb of God was the only One who could do it, the only One who could rescue us, because He had no sin of His own. That is why Paul, imprisoned for the gospel, exhorts us to "walk worthy of the calling with which [we] were called." (Ephesians 4:1)
And so, we identify with Jesus in His death, much like the survivors of the Arizona and Donut and Private Ryan identified with those who perished. That should have been me… but it was Jesus. He made the ultimate sacrifice, and in the process, I was given life – real life – in Him. His sacrifice freed me to live a life that glorifies Him.
Oh my, if we could get this marvelous truth deep into our hearts, it would transform our lives!
The power to walk in newness of life comes from the cross and is reflected in our baptism. Scripture tells us that "as many of us as were baptized into Christ Jesus were baptized into His death … Therefore we were buried with Him through baptism into death." (Romans 6:3) Just like the survivors of the Arizona identified with the deaths of their fallen comrades, and are now buried with them, so we identify with Jesus' death and are buried with Him through baptism. It's where we belong.
But that is only the beginning… We not only identify with Jesus in His death and burial through baptism – but also in His resurrection! As surely as Easter follows Good Friday, we can walk worthily of His sacrifice, if we live in the newness of His resurrection life.
"Therefore we were buried with Him through baptism into death, that just as Christ was raised from the dead by the glory of the Father, even so we also should walk in newness of life. For if we have been united together in the likeness of His death, certainly we also shall be in the likeness of His resurrection." (Romans 6:4-5)
Please follow and like us: