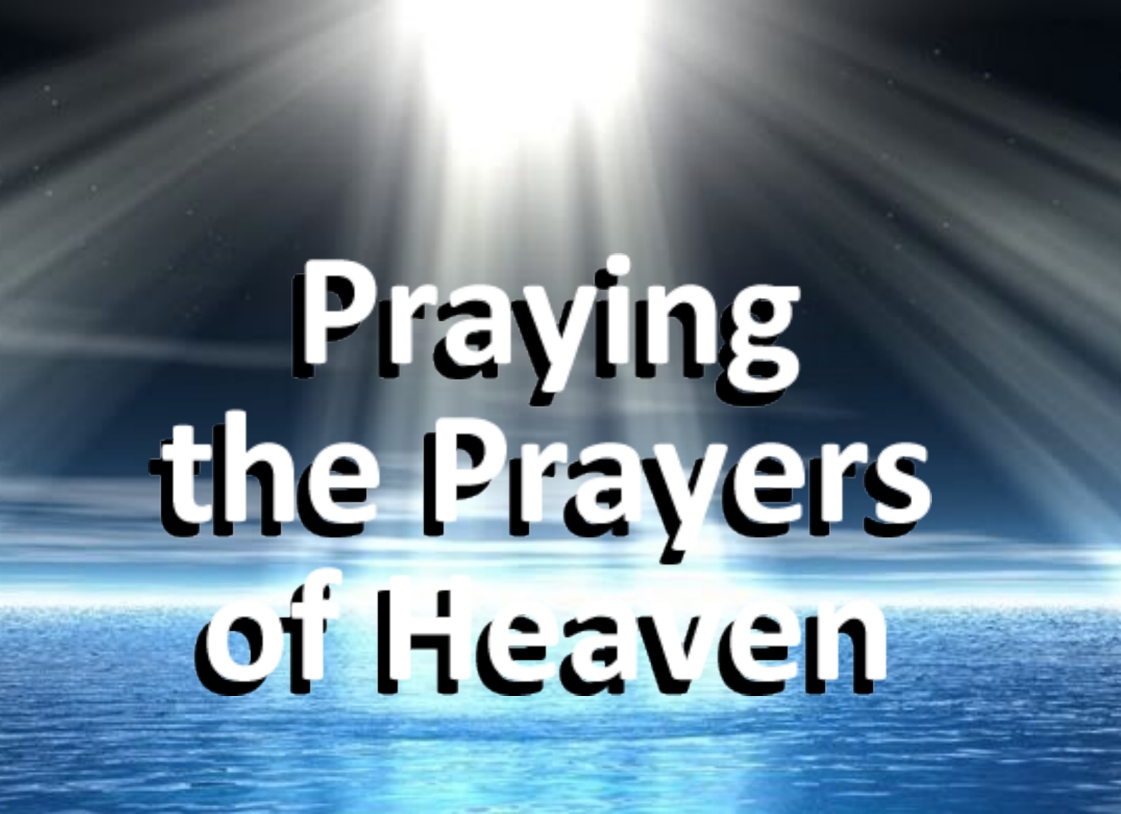 Some of us have been praying together for over ten years. During this time, the Lord has been teaching us not just to pray the prayers on our heart, but to join Him in praying the prayers on His heart. I call it "Praying the Prayers of Heaven." In Paul's letter to the Corinthians, he shares some thoughts along this lines…
For if I pray in a tongue, my spirit prays, but my mind is unproductive [because it does not understand what my spirit is praying]. Then what am I to do? I will pray with the spirit [by the Holy Spirit that is within me] and I will pray with the mind [using words I understand]; I will sing with the spirit [by the Holy Spirit that is within me] and I will sing with the mind [using words I understand]. (1 Corinthians 14:14-15)
The Holy Spirit has been teaching us about praying with the spirit and not just with our understanding. Praying with our spirit, by the Holy Spirit within us, is very different from praying with our understanding. If we rely only upon our natural understanding, we will pray the prayers of earth. That's okay – but if we allow the Holy Spirit to lead us – He will lift us to another realm to pray the prayers of heaven.
In the same way the Spirit [comes to us and] helps us in our weakness. We do not know what prayer to offer or how to offer it as we should, but the Spirit Himself [knows our need and at the right time] intercedes on our behalf with sighs and groanings too deep for words. (Romans 8:26)
The Holy Spirit has been using this verse to teach us to pray. We often quote it at the beginning of our gatherings to remind us that we really don't know what God wants us to do through us in our prayer time! If we just approach intercession with our natural understanding, we can miss what the Spirit has in store. In order to pray in the Spirit, we have to connect with the Holy Spirit. In other words, we have to allow our spirit to engage with the Holy Spirit to lead us above and beyond our natural understanding.
I recently watched a video of Bob Jones (a prophet who is now with the Lord) talking about the internal struggle between the mind and the spirit. He said, "There is a civil war going on inside of us, the grey verse the blue," the mind (intellect) versus the heart. God created the mind to be a great servant, but it was never designed to lead us. The human mind is certainly not the best leader, when it comes to engaging with God, because "God is Spirit, and those who worship Him must worship in spirit and truth." (John 4:24) It is through our spirit that we communicate with Him…be it worship or in prayer. When we connect with the Holy Spirit in our spirit, He will guide us into all truth – and teach us to pray the prayers of heaven!
But – how do we do this?
The Lord told me several years ago to get vertical, when we begin to pray. In other words, we need to focus our attention totally on the Lord (Col. 3:1-2) and surrender entirely to the Holy Spirit. As we do, He will lead us in our times of intercession.
One of the techniques we have found helpful is to cast all of our cares on Him at the beginning of the prayer meeting. (1 Peter 5:7) To get vertical, we need to give God our burdens – or they will hold us earthbound. If we think of prayer like a ride in a hot air balloon, the cares of this world, even the very burdens we brought to the meeting, can be like the ropes that tether us to the ground. In just the same way, we have discovered that focusing on our prayer list before we get vertical keeps us from praying with a heavenly perspective.
God certainly wants to hear our prayers and meet the needs on our hearts, but we aren't the only ones who came to the meeting with an agenda! Praying the prayers of heaven means partnering with the Lord to address the issues on His heart, as well. Following the Holy Spirit's lead has shown us that giving God our burdens, frees us to receive His! As we get vertical, the needs He wants us to address in prayer come into focus. When the Holy Spirit unites our hearts with His, we wind up praying for what is on His list. We co-labor with Him in intercession! When we engage with Him, He opens our spiritual eyes to see His heart and pray for His Kingdom to come and His will to be done.
Ultimately, praise, worship, singing in the Spirit, and praying in the Spirit can help us to get vertical and engage with the the Lord. They are certainly not the only ways to connect with Him; sometimes it's simply a matter of being still to listen… However, in a corporate gathering, releasing our hearts to Him in worship, singing in the Spirit, and praying in the Spirit seem to play a vital role. Scripture says to "enter His gates with thanksgiving, and into His courts with praise." (Psalm 100:4)
Regardless of what we do to connect with God, the essential element in getting vertical is to surrender, to yield ourselves to the Holy Spirit. Then, once we are vertical, when we are caught up in His Presence, He guides us to pray in ways that are always new and fresh. Corporate prayer is exciting, when the Holy Spirit leads us to pray the prayers of heaven!
So, let's get vertical and see what God will do!

Please follow and like us: