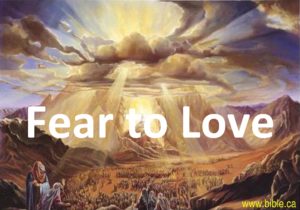 "And Moses said to the people, 'Do not fear; for God has come to test you, and that His fear may be before you, so that you may not sin.'" (Exodus 20:20 NKJV)
The fear of God is not a bad thing. As a matter of fact, it's a good thing, a very good thing. The fear of God keeps us from sin. The children of Israel freaked out when God descended on Mt. Sinai. Suddenly, He was real. Of course, these were the same people who witnessed the miracles of God back in Egypt. So, why did they freak out, now? They had seen the awesome power of God… What was the difference?
Knowing about God, knowing Him from afar, and knowing Him "up close and personal" are very different things. In Egypt, they witnessed the signs and wonders performed through Moses. Moses related to God, and they related to Moses. He was in between. Now, God had entered their world, personally. Suddenly, the God they had heard about and experienced through Moses wanted to relate directly with them!
Cory Russell in his book, The Glory Within talked about an experience that forever changed his life. He had heard about Jesus, even heard the testimony about how Jesus powerfully delivered his best friend from drug addiction. None of that really changed him. However, one day, when he was just sitting in his van, God showed up in Person – like He did on Mt. Sinai. Cory had a personal encounter with the living God, and his life was forever changed!
God is soooooooo much bigger than we can begin to imagine! Perhaps, that is why we tend to remake Him in our image – so we can relate to Him. But God is not a man, nor is He a tame lion. He is the Creator of the universe. When He speaks, the world needs to tremble.
One day, we will all stand before the Judgment Seat of God. On that day, we will witness the King of Glory unveiled before our eyes. Each person who has ever lived will need to relate directly to the King of Kings and the Great Judge of all the earth. There will only be one reaction on that day: Every knee will bow, and every tongue will confess that Jesus is Lord.
The question is – are we ready for that day?
Moses had a personal relationship with God, and the fear of God produced within him a pure heart. He revered God, but He wasn't scared of Him. His experience taught him that God was for him, not against him. That day at Mt. Sinai, God wanted to make Himself known to Israel in the same way, but they wanted to run away.
The fear of God will do that. It will either cause us to run to God or to run away. In the verse at the beginning of this article, Moses was speaking from experience. He was willing to allow God to deal with his sin, so he ran toward Him. Israel, however, held onto their sin and ran away.
Sin will always separate us from God. But the good news is that God has provided a way to separate the sin from us.  That is, through His Son, Jesus Christ! He alone is the antidote for our sin.
Jesus died a horrible death on the cross to pay the penalty for our sins. His blood was the eternal sacrifice for the sin of the world. His blood – and His blood alone – has the power to take away our sin.
Like Moses, we can either run to God or run away. The Israelites interpreted the awesome power and presence of God as something to be feared. As a result, they ran away. God, however, wanted to reveal Himself to them as a God of love. Fear kept them from experiencing His love that day.
If we hold onto our sin, fear will control our thoughts, and we will always run away. But if we confess our sins, the blood of Jesus Christ will take them away, and God will give us eyes of faith. The choice is ours – love or fear.
"But as many as received Him, to them He gave the right to become children of God, even to those who believe in His name," (John 1:12 NASB)
Please follow and like us: