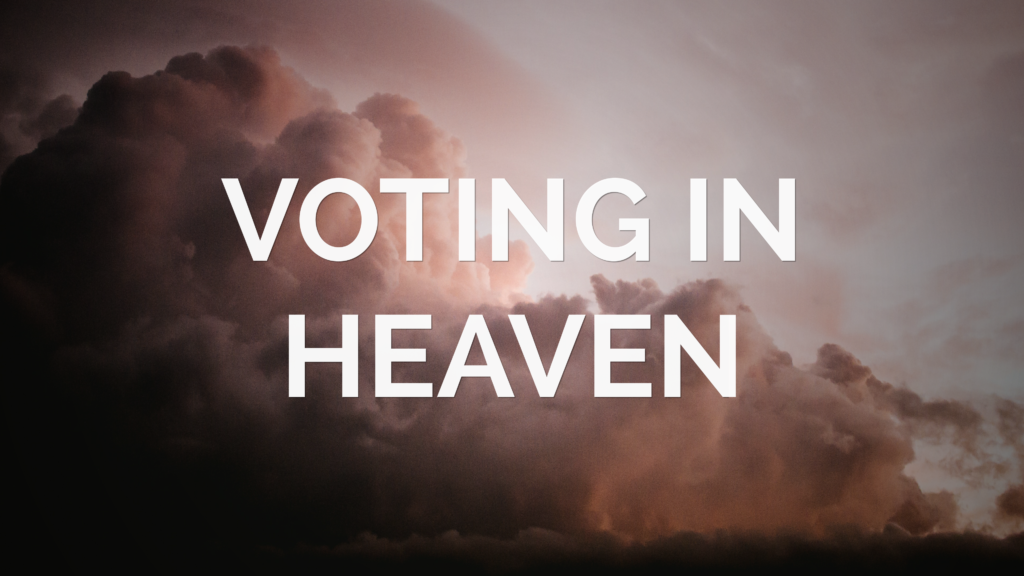 Recently, we were in a prayer meeting and a lady in attendance began to pray for our political leaders. As she was praying, I heard the Lord say, "She's voting in heaven!" That really spoke to me.
We just completed a national election in America, where every citizen had an opportunity to vote. Over the years I've come to realize how important it is to vote – and especially as a Christian to vote according to the Word of God. In Genesis 1:26, the Bible states that God gave us authority to exercise dominion here on earth. "Let Us make man in Our image, according to Our likeness; let them have dominion over the fish of the sea, over the birds of the air, and over the cattle, over all the earth and over every creeping thing that creeps on the earth." God created us to exercise authority; He bestowed upon us the ruleship of planet earth. Psalm 115:16 confirms that point even further, "The heaven, even the heavens, are the Lord's; but the earth He has given to the children of men."
God created us to rule and reign on the earth. This is especially true for believers who are called to rule and reign with Christ – even in this present age. (I Peter 2:9; Revelation 1:5-6; Ephesians 2:6) As such, we have a responsibility to use the authority God his given us to bring order out of chaos. Voting is one way of exercising dominion here in America. As citizens of a constitutional republic, we have a responsibility to vote for those who will represent God's Word and Biblical values. We also have a responsibility to pray for all political leaders and representatives, that we might live peaceful, undisturbed lives, as we serve our Lord Jesus Christ. (1 Timothy 2:2, paraphrased)
We are told to pray for God's kingdom to come and His will be done on earth, as it is in heaven. (Matthew 6:9) Through prayer, we use the authority God has given us to rule on earth, and especially in the unseen realm of life. After all, the Bible informs us that we are not alone on this planet. The apostle Paul tells us in Ephesians 6:12 "For we are not fighting against flesh-and-blood enemies, but against evil rulers and authorities of the unseen world, against mighty powers in this dark world, and against evil spirits in the heavenly places." (NLT) Our real enemies are not the people that oppose us but the evil spirits in the invisible realm of life that often operate in and though people.
A couple years ago, I wrote an article entitled, Vote for God. (It is also posted on our blog, here.) In that article, I wrote about the importance of voting, but more than just voting, voting according to the Word of God. In other words, the Bible is like a cheat sheet, where God tells us who to vote for. Does the candidate support what the Bible calls good, just, upright, and fair? Will that person vote for the values that create a good and just society? The question is: Do those we vote for, in turn, Vote for God?
As much as I believe in the importance of voting on earth, voting in heaven may be more important. Prayer moves the hand of God, so He can then move the hearts of men. E M Bounds first said that…
We are saved by the grace of God through faith – not by any efforts on our part. Salvation is the work of God from beginning to end. Only God can deliver a person from the powers of darkness and into the glorious light of Jesus Christ. Yes, every person must make a decision to receive the gift of eternal life, but if they are blinded from the truth of God's Word, how will they ever choose?
Theologians have argued for years about two opposing doctrines in the Bible – the election of God, and the free will of man. Personally, I don't believe they are opposing teachings. Yes, God does choose those ordained to eternal life, but how does he choose? Does He arbitrarily pick one person to inherit eternal life and the other to spend eternity in hell? Why would He make such a random choice? Some would say that election is determined by our choice. God, not bound by time, already knows those who will accept Jesus Christ from before the beginning of time. That certainly is possible, but what if our voting in heaven plays a key role in the election of God? Just asking…
Lee Thomas in his book, How to Pray Effectively for the Lost, begins with this statement: "The lost will not – and indeed cannot – be saved, unless someone prays for them." That's a shocking statement for most people, even Christians. We have been taught that salvation is either the result of human choice or God's election. But is it possible that God has called us to play a part of those decisions? Could it be that our prayers literally "move the hand of God" in reaching the lost?
Of course, preaching the gospel is absolutely necessary – but is it possible that millions, who have heard the gospel, are blinded by the god of this world? 2 Corinthians 4:3-4a tells us, "Even if our gospel message is veiled, it is only veiled to those who are perishing, for their minds have been blinded by the god of this age, leaving them in unbelief…" (TPT) Is it possible that our prayers can lift the veil of darkness holding millions in captivity?
In Proverbs 21:1 we are told, "The king's heart is in the hand of the Lord, like the rivers of water; He turns it wherever He wishes." If God can turn the heart of a king wherever He wishes, can't He also change wicked leaders into godly men and women of faith? I believe He can. But why would He do so? Why doesn't He change the heart of every king, every leader, every person ever created? This is where we may play a part in the eternal destiny of others.
In the book of Ezekiel, God was about to pour out His wrath on the nation of Israel. Their priests, prophets, princes and pretty much every one else had become an abomination to God. Yet God, in His mercy wanted to save them. Why didn't He? After all, He is sovereign right? He can do whatever He wants at any given time. And then again, maybe not. Is it possible that He has sovereignly decided to include us, when it comes to rescuing the wicked?
In Ezekiel 22:30 God said, "So I sought for a man among them who would make a wall and stand in the gap before Me on behalf of the land, that I should not destroy it; but I found no one." God was looking for one man to stand in the gap and intercede for the land. Just one. He needed someone to plead on behalf of the people to show mercy. The power of one man's prayer could have averted judgment that day…but it didn't. There was not a single person available to pray and move the hand of God toward mercy.
When we vote in heaven, we are standing in the gap, pleading on behalf of the souls of men. Many of the great soul winners of the past understood the power of prayer. For example, Charles Finney, was an American evangelist who lived in the nineteenth century. He would not conduct an evangelistic campaign without "Father Nash."
Daniel Nash served as Finney's intercessor. He would go into a city ahead of a campaign to pray and fast for three days. Then during the meetings, Nash would lead others in prayer while Finney preached to the crowds. The impact of prayer was so powerful that when Nash suddenly died, Finney stopped holding evangelistic campaigns.
John Hyde was another man who understood the importance of voting in heaven. He prayed every day for God to use him to bring one person to Christ. God answered those prayers, and Hyde saw over 400 people born again in that year. The following year, he prayed for two people a day, and eight hundred souls gave their lives to Christ. In 1910, Hyde stormed the gates of heaven for four lost souls a day – and it is said that God answered those prayers, as well.
However, the intensity of Hyde's prayers took a toll on him. Also known as "Praying Hyde," John developed a heart condition. Somehow, through the intensity of intercession, his heart shifted from the left to the right side of his chest. The doctors thought it was from stress – but the truth be known, it was from intense prayer!
John Hyde discovered the power of voting in heaven, and that same power is available to us today. "Jesus Christ is the same yesterday, today, and forever." (Hebrews 13:8)Are we willing to pray like John Hyde and Daniel Nash – to pray for lost souls until they are won to Christ?
James 5:16b says, "The effective, fervent, prayer of a righteous man avails much." James is referring to the kind of prayer that opens heaven and causes it to rain after a three-year drought. (Read James 5:16-18 and 1 Kings 18:41-46.)
Every believer is called to intercede, some maybe more than others. In 1 Timothy 2:1-4 we are exhorted… "Therefore I exhort first of all that supplications, prayers, intercessions, and giving of thanks be made for all men, for kings and all who are in authority, that we may lead a quiet and peaceable life in all godliness and reverence. For this is good and acceptable in the sight of God our Savior, who desires all men to be saved and to come to the knowledge of the truth."
Voting in heaven may have a greater impact on earth than we can ever imagine. The question is: Will we vote in heaven?
Note: All Scriptures are NKJV unless otherwise noted.
Please follow and like us: