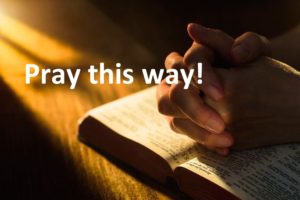 "Pray, then, in this way: 'Our Father who is in heaven, Hallowed be Your name. 'Your kingdom come. Your will be done, on earth as it is in heaven." (Matthew 6:9-10 NASB)
This may be the most important and powerful prayer we can ever pray. Many have prayed this prayer giving little thought to what they are saying. Those words have become all too familiar, when it comes to prayer. Yet, when Jesus told His disciples to pray this way, He was not just giving them nice words to say. He was telling them to open a door between heaven and earth to manifest God's kingdom. Through their very prayers, they could invite the rule of God into their lives, and the lives of others.
The "kingdom of God" is where God rules and reigns. The Bible says that God has absolute power and authority in heaven. It is His domain. Psalm 115:3 says, "But our God is in the heavens; He does whatever He pleases." When we pray, "Your kingdom come, Your will be done, on earth as it it's in heaven," we are issuing an invitation for God to rule on earth as He does in heaven. You probably think, "That's crazy… God is God! He is sovereign! He can do whatever He wants!" That sounds right. However, later in Psalm 115, the Psalmist says this: "The heavens are the heavens of the LORD, But the earth He has given to the sons of men." (Psalms 115:16)
God has given the earth to the sons of men to rule and reign. (See Genesis 1:26.) That right of dominion was lost to Satan in the fall but restored through the blood of Christ. Hence, the Church has been given the right to rule on earth once again – but we can't do it apart from God.
There's an unseen realm that operates in this world that is impossible to contact through man's natural senses and abilities. We need the power of the Holy Spirit to overcome the demonic realm on earth. We need the rule of God, the wisdom of God, and the will of God to defeat the powers of evil in this present age. When we invite God's kingdom to come, we are opening a door that welcomes the power of heaven to earth.
Several years ago, while in prayer, the Lord showed me a picture of a safety deposit box. I had never used one, but I knew how they worked. It takes two keys to open that kind of security box. One is kept at the depository, and the other is held by the owner of the box. Both keys have to be inserted in the box at the same time. The Lord said to me, "When you pray according to My will, it's like putting your key along Mine in the door of heaven. And when you do, the rule of heaven can touch earth." Agreement is a powerful thing.
In Matthew 16:19, Jesus spoke about the keys of the kingdom. "And I will give you the keys of the kingdom of heaven, and whatever you bind on earth will be bound in heaven, and whatever you loose on earth will be loosed in heaven." (NKJV) It is through prayer that we use the keys He has given us. It is through prayer that we loose heaven on earth.
Our prayers are powerful, when we pray according to God's will. I John 5:14-15 tells us, "This is the confidence which we have before Him, that, if we ask anything according to His will, He hears us. And if we know that He hears us in whatever we ask, we know that we have the requests which we have asked from Him." If we just pray for what we think should happen, we will often miss the mark. However, when we pray according to God's will, our prayers become the prayers of heaven. Those are the prayers that open the door for God's kingdom to come and His will to be done.
Next time you go to Him in prayer, invite God's kingdom into your life and upon those for whom you are praying. It may be the most powerful prayer you can ever pray – when you pray it in faith.
Please follow and like us: