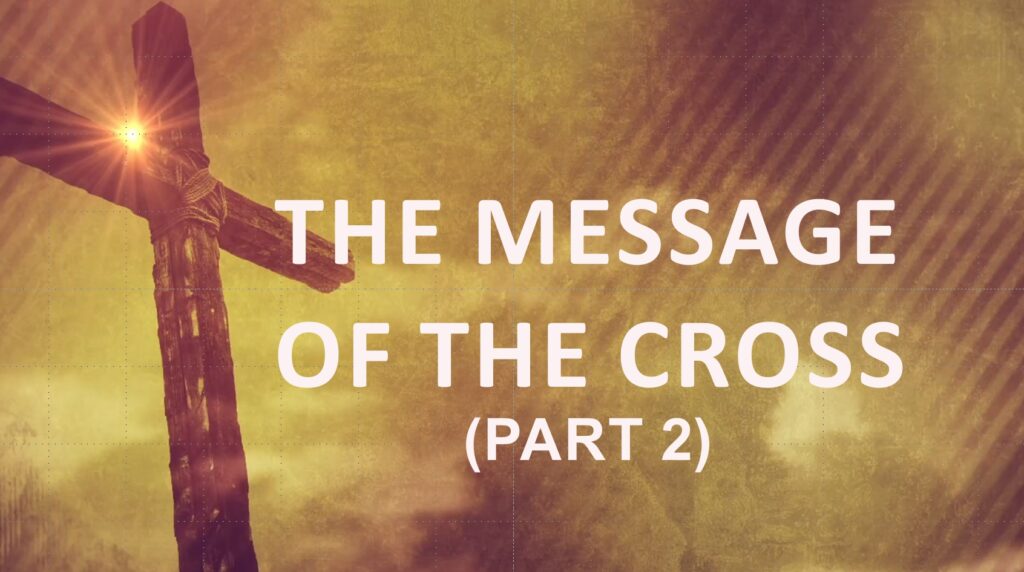 "Then Jesus said to His disciples, 'If anyone desires to come after Me, let him deny himself, and take up his cross, and follow Me. For whoever desires to save his life will lose it, but whoever loses his life for My sake will find it. For what profit is it to a man if he gains the whole world, and loses his own soul? Or what will a man give in exchange for his soul? For the Son of Man will come in the glory of His Father with His angels, and then He will reward each according to his works.'" (Matthew 16:24-27 NKJV)
Strangely, preachers shy away from the message of the cross. Oh, they love to talk about the message of the cross of CHRIST – and so they should, because that is what saves us. However, they often leave out the cross of the CHRISTIAN, when Jesus plainly tells us that we must pick it up to follow Him. Jesus' cross is what caused His death and secured our salvation. Our cross causes our death, too – and enables our sanctification.
Since our cross involves repentance and submission to God, some preachers think it is "negative." Instead, they say they want to preach primarily about "God's love." Seriously? The message of the cross, the WHOLE message of the cross, IS the message of God's love! To contrast the message of God's love with the message of the cross is to make a false dichotomy – much like what some have done with the Word and the Spirit. They cannot and should not be separated – though some churches major on one almost to the exclusion of the other!
The complete message of the cross is the message of God's amazing love for us expressed through Jesus on His cross – and through us on ours. You see, for Him to live in us, we must die to ourselves – and that means embracing our cross. The Apostle Paul was a great example of someone who picked up his cross to follow Jesus. He became a man truly filled with the spirit of Christ, because he committed himself fully to God and His Kingdom. That is why he could write, "I have been crucified with Christ; it is no longer I who live, but Christ lives in me; and the life which I now live in the flesh I live by faith in the Son of God, who loved me and gave Himself for me." (Galatians 2:20 NKJV) We can quote Paul and say the same is true for us "by faith," but Paul wasn't doing that. He was telling us what he had actually experienced: "His position" had become "his condition." How did that happen?
Paul gives us many hints and instructions throughout his letters. Study them, when you can, but here is one we will consider now… Paul told the believers in Philippi to "join in following [his] example, and note those who so walk, as you have us for a pattern. For many walk, of whom I have told you often, and now tell you even weeping, that they are the enemies of the cross of Christ: whose end is destruction, whose god is their belly, and whose glory is in their shame—who set their mind on earthly things." (Philippians 3:17-19 NKJV)
When we walk as "enemies of the cross of Christ," we stifle the Holy Spirit's work within us – and our "end will be destruction!" We may start well, but we will finish poorly, if we remain selfish and soulish and attached to this world. Those who walk that way, clearly, have not embraced Christ's cross enough to pick up their own. They have not let Christ's cross do its work in them. What a sad state; no wonder Paul is crying! They could have had everything that Jesus won for us, when He died on His cross – if they would only pick up theirs and follow Him…
Is God good? Yes. Would He have told us to pick up our cross and follow Him if we didn't need to do so? No. He told us to pick up our cross and follow Him, because He is good and loving and generous! It is through picking up our cross that we become like Him! He created us in His image, but we have been terribly marred by sin. Jesus died on the cross in our place – and took the wrath of God that should rightly be ours. And then, He rose again by the Spirit of Holiness – proving that His sacrifice was accepted and that our debt was paid in full! (Romans 1:4)
Christ's death removed sin from us completely, and we become "new creations" in Him. (2 Corinthians 5:17) Our loving heavenly Father wants us to actually become these new creations He redeemed us to be! And what is that "new creation?" It's someone who has been re-created from His original design for us, someone who has been transformed to look a lot like Jesus!
It is Christ's life at work inside of us, through the Word and the Spirit of God, that transforms us into His image. (Romans 12:1-2; 2 Corinthians 3:17-18) This is not something we can do to or for ourselves! And yet, to receive this transformation, we must die to ourselves, to our "old self" – and that means embracing our cross. Thanks to what HE did for us, we can "reckon ourselves dead to sin and alive to God." (Romans 6:11)
Thanks, also, to the cross of Christ, we are dead to the world and the world to us: "God forbid that I should boast except in the cross of our Lord Jesus Christ, by whom the world has been crucified to me, and I to the world." (Galatians 6:14 NKJV) Not only am I separated from my sin – but also from the world – by the cross of Christ. When we pick up our cross and follow Him, this, too, becomes a reality in our life.
The good news is that it is ALL BY HIS GRACE; the grace in which we stand, enables us to do it all! (Romans 5:1-2) That is why we can cease from our own works and rest in His grace. (Hebrews 4:9-11) Salvation from beginning to end is by grace through faith, not of ourselves lest any man boast. (Ephesians 2:8-9) It is by His grace – appropriated through our humility and faith – that we can "… work out [our] own salvation with fear and trembling; for it is God who works in [us] both to will and to do for His good pleasure." (Philippians 2:12-13 NKJV)
Ultimately, picking up our cross involves submitting our will to Him – just like He had to submit His will to the Father. To get to Golgotha, Jesus had to make it through Gethsemane – and so do we… "And He was withdrawn from them about a stone's throw, and He knelt down and prayed, saying, "Father, if it is Your will, take this cup away from Me; nevertheless, not My will, but Yours, be done." Then an angel appeared to Him from heaven, strengthening Him. And being in agony, He prayed more earnestly. Then His sweat became like great drops of blood falling down to the ground." (Luke 22:41-44 NKJV)
Jesus is the ultimate example of humility and obedience, the One we are to follow… "Let this mind be in you which was also in Christ Jesus, who, being in the form of God, did not consider it robbery to be equal with God, but made Himself of no reputation, taking the form of a bondservant, and coming in the likeness of men. And being found in appearance as a man, He humbled Himself and became obedient to the point of death, even the death of the cross. Therefore God also has highly exalted Him and given Him the name which is above every name, that at the name of Jesus every knee should bow, of those in heaven, and of those on earth, and of those under the earth, and that every tongue should confess that Jesus Christ is Lord, to the glory of God the Father." (Philippians 2:5-11 NKJV)
Embracing Christ's cross – and ours – is essential. In love, Jesus tells us to do this, because there is no other way. We cannot do an end-run around this truth: We must embrace Christ's cross and make it our own, letting it do its sanctifying work in us. This is what Paul did and what Jesus did. He was God – but lived on earth as a Spirit-filled Man, submitted to the Father. This was not only how He died – but also how He lived. Following Him, walking the way He walked, keeps us in Him, helps us to grow in grace, and finish our race in victory. Ultimately, the work of the cross is what transforms us into His image and makes us fruitful in the kingdom!
So, the message of the cross is not at all "negative:" It is God's truth, expressed in love for our good and His glory! The complete message of the cross must be restored to the Church and preached to the lost, if we are to become (and make) the disciples He desires. God's message is still same as it ever was, and its power has not diminished. With it, comes His call to pray it through and live it out and preach it boldly, so that the good news of God's amazing love – the message of the cross – can reach the hearts of men!
Please follow and like us: